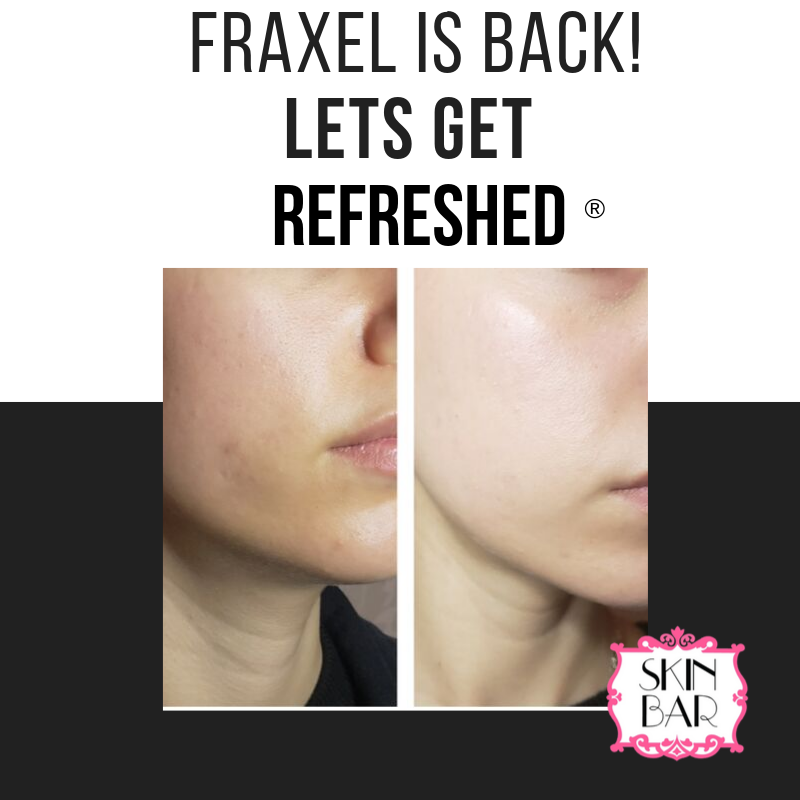 Fraxel Clear & Brilliant Has A New Name
We call it Fraxel Refresh®! Fraxel Refresh® is a skin resurfacing treatment performed with the Fraxel Dual laser. Refresh is stronger than Clear & Brilliant but not as strong as a Fraxel Dual, which makes it perfect for freshening up and reclaiming your glow.
It's perfect for repairing summer sun damage too. That's why Fraxel Refresh®- formerly known as Clear & Brilliant -is so popular this time of year. And now it's back! Exclusively at Skin Bar NYC.
Why are we renaming Clear & Brilliant, Fraxel Refresh®?
The same company manufactures Fraxel Refresh® and Clear & Brilliant, but Refresh® is a more powerful treatment. They are both Fractional lasers, which means they use laser energy to make columns of microscopic wounds surrounded by healthy tissue. This method allows the skin to heal rapidly.
Wounds made with Fraxel Refresh® are larger and there are about twice as many of them. This means Refresh® is more intense and clients may experience some social downtime. But, believe me, the results are worth it!
So, while Clear & Brilliant is very similar to Fraxel Refresh®, many differences set it apart. And that's why we gave it a new name.
What is Fraxel Refresh®?
So, now that we know the fundamental difference between Fraxel Refresh® and Clear & Brilliant, let me tell you a little more about how it works. Fraxel Refresh® works with a 1927 Wavelength Diode laser. The laser focuses energy on the outer most layer of the skin. This layer is where pigment-producing melanocytes live. These guys are responsible for sun damage and uneven skin tone.
Refresh lasers away sun damage and pigmentation with precision while at the same time rapidly boosting cellular production. You can expect a brighter skin tone and texture, as well as the reduced appearance of pore size, fine line, and wrinkles.
For optimal results, I recommend a series of Refresh® treatments. They are usually done once a month.
Am I a Good Candidate?
Refresh is perfect as a preventative anti-aging treatment or for those looking to erase the early signs of aging to maintain a youthful appearance. And unlike most laser treatments, Refresh® is safe for all skin types.
What should I Expect?
Refresh® is a quick 30 minutes treatment. Our clients arrive at Skin Bar NYC 45 minutes before for prep. Unlike Clear & Brilliant, which can take several treatments to see visible results, Refresh® will reveal results after the first one. That's because it delivers more power, restoring more surface area each time.
I recommend clients to expect a couple of days of social downtime after the first treatment. Your skin may look like it is recovering from a mild sunburn for a couple of days. Slight redness, some peeling, and some uneven skin tone until the old layer has exfoliated.
Many clients show no visible sign that they had a laser treatment. Everyone's post-treatment experience is a little different. So, for the first time, plan for a little social downtime, and then you'll know how to prepare for the next one.