Top 5 Things The Irish Should Do To Look Younger Longer!
Happy St. Patricks Day! In honor of St. Patrick's Day, we wanted to share our top tips for maintaining flawless fair skin.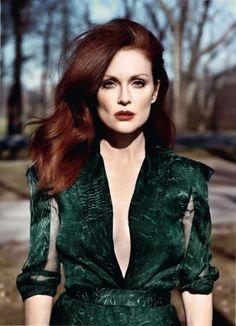 The Irish beauty's are historically known for their incredible fire coloured hair and glowing, porcelain skin. Rita Hayworth, Julianne Moore and Julia Roberts to name just a few!
So whilst we often dream to have a fair complexion like some of our favourite celebrities, we also know that fair skin needs extra care, as light skin is prone to sun damage.
As spring/summer approaches, we provide some advice for those of you as lucky as the Irish! On which cleansing routine, products, types of peels and facials are most appropriate to keep your fair skin glowing and healthy.
# 1: A daily routine is a necessity to keep your fair skin radiant
Starting your morning by caring for a fresh face is essential. Just as you brush your teeth every morning; cleansing your skin properly has to be part of your routine.
Can't do without your morning coffee? Caring for your skin is just as much of a necessity!
A simple daily routine recommendation:
Begin by cleansing your skin and applying a Vitamin C serum (CE Ferulic from SkinCeuticals and Vital C from Image are both great).
Follow by applying SPF 30-50, depending on how fair your skin is. Be sure to apply at least a half hour before leaving the house, to allow the SPF to take effect.
Go about your day (safe and happy in the knowledge that your skin is being cared for!) then follow up at night by cleansing your skin and applying a corrective serum. For those with dry skin, we recommend a hydrating B5 gel, and for those with sensitive skin; a phyto corrective gel.
Finish with a nighttime moisturizer and eye cream and you're ready for bed – sweet dreams!
# 2: Be Confident In Your Products
Using products of great quality and that are produced especially for your skin type, will go a long way in maintaining the health of your skin.
We recommend products containing Vitamin C. These help to fight premature aging to your skin, otherwise known as free radical skin damage. No one wants their skin to age, especially before it has to! The benefits of Vitamin C just carry on coming! As it acts as an extra layer of sun protection when used under SPF, and works wonders in preventing and correcting hyperpigmentation, which is common in fair skin.
Some of the best products you can use are:
CE Ferulic Acid – a combination of Vitamin C and Ferulic Acid
Vital C – Vitamin C in a non-acidic form (sodium ascorbate)
# 3: Follow The SPF Rules And You Can Say Bye Bye To Sun Damage!
Our skin is the largest organ of our body and, to healthily maintain it, has to be protected from the sun. It's not just those with fair skin either! All skin types can be subject to sun damage if the SPF rules aren't followed.
The rules of SPF are extremely important and are too often broken! We are putting a stop to that right now with this list of three simple rules to live by! Following these rules are especially important to those with fair skin, as it is at a higher risk of sun damage.
Apply every morning, every season, rain or shine!
If out in the sun for the day, reapply every 90 minutes to the entire body.
Do not use anything lower than SPF 30. Those with fair skin should use SPF 50 for proper protection.
Although the rules are simple and easy to follow, many people do not properly protect their skin from the sun. It can be especially difficult for those with fair skin because their skin is more easily damaged. They may not have reapplied as often as they should have or didn't use a strong enough SPF, however still felt that they had protected their skin.
What does this result in? Sun damage! Sun damage impacts the appearance and health of your skin and can be extremely dangerous. However, there are ways to reduce sun damage like peels and laser treatments. Phew!
# 4: Didn't Read # 3 Before Going In The Sun? Make Sure You Have The Appropriate Peel To Reduce Sun Damage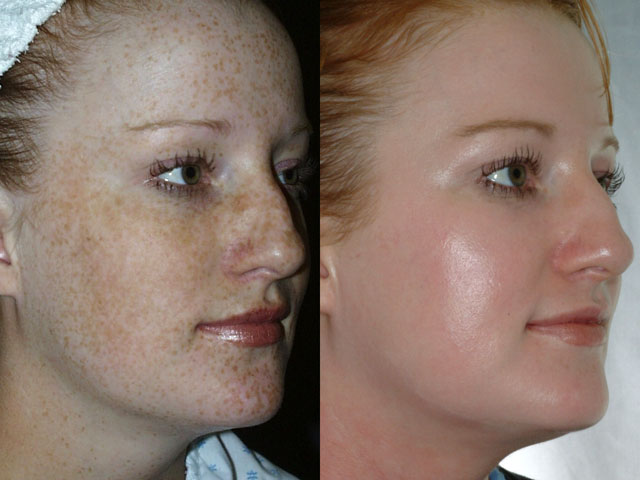 (Before and after Glycolic Peel)
The best peels for reducing sun damage:
Glycolic Peel. The Glycolic Acid helps to evens out your skin tone and texture, leaving your face silky smooth.
SkinCeuticals' Pigment Balancing Peel. It helps to control some uneven pigmentation and also utilizes Glycolic Acid. In addition to this it contains an optimized blend of lightening agents – citric acid, Vitamin C (27%) and Emblica (4%). These all work together to diminish and control hyperpigmentation, and result in a sun damage-destroying army!
Image Skincare's great Lightening Lift Peel. It uses a unique blend of Glycolic Acid and Kojic Acids, along with fruit enzymes to conquer sun damage.
# 5: Make Sure You're Having The Best Laser Treatments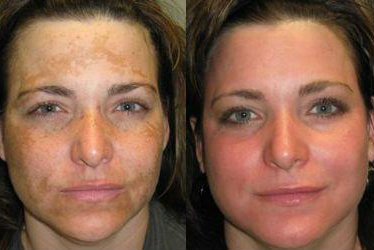 Before and after IPL Photofacial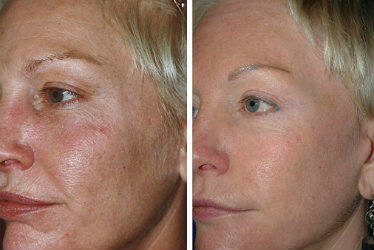 Before and after Fraxel<
A facial or laser treatment can be a brilliant way to help draw out sun spots or pigmentation, giving you a more even skin tone and younger looking skin!
The facial we recommend:
An IPL Photofacial attacks pigmentation, or brown and red marks on your skin.
Skin Bar uses the gold standard in the industry for light based skin treatments, called Photofacials. Intense Pulsed Light (IPL) works on all types of skin. Three wavelengths of light target different levels of pigmentation. Red spots are broken capillaries and rosacea. Brown areas are sun spots or melasma.
It works by drawing the brown and red pigment in the skin out to the skin's surface, allowing the damage to flake away. After 4-6 treatments, you are certain to see results!
The best laser treatment we recommend:
An alternative laser treatment we love is Fraxel Dual, which works on pigment rather than collagen. This sheds more layers of skin than IPL, and resurfaces the skin from the inside out.
We hope our list helped! Cheers to St. Patty's Day and the beautifully fair skin of the Irish!