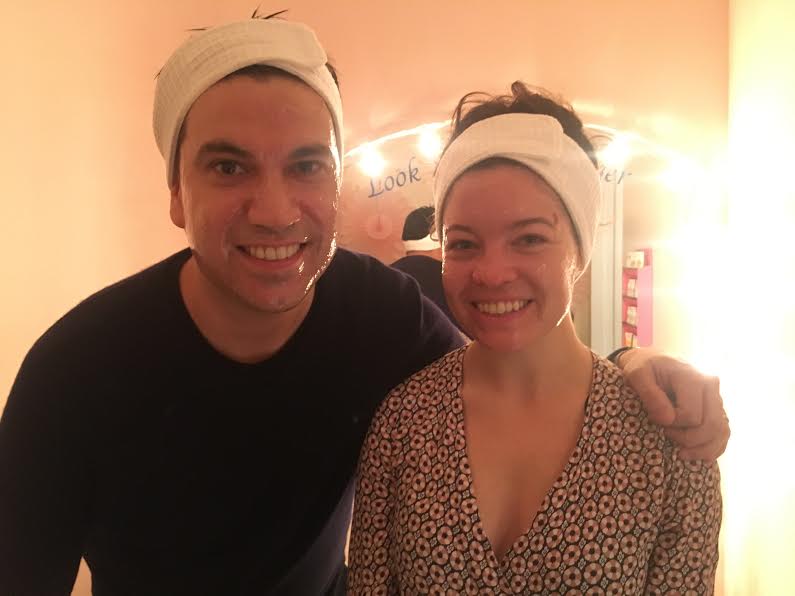 Follow My Fraxel Refresh® Journey
When I tell my members to prepare for a little social downtime after Fraxel Refresh®, I understand that it can lead to more questions as it is a pretty vague description. The truth is that everyone's recovery is a little different.
I know, that's another vague answer. And vague answers are not very helpful. So, I figured the best thing to do is share with you my experience complete with a step by step description and photos. Join me on my Fraxel Refresh® journey from start to finish and get an idea of what your experience might be.
My experience was more extreme in terms of post-recovery peeling. That's because I had a lot of superficial damage. Keep that in mind as you prepare for your Fraxel Refresh®. And remember, everyone's experience is a little different.
Fraxel Refresh® is a preventive laser treatment explicitly designed to keep your skin looking younger and more radiant without the downtime of other Fraxel laser treatments.
I had the Fraxel Refresh® last week, and the results are amazing! My skin feels as soft as my toddlers and is so bright and vibrant. I'm hooked, and I think you will be too.
First, a little background.
I'm 45 years old with a pretty consistent home skincare routine. I have facials regularly. And most people tell me I still look like I'm in my 30's. But since I turned 40, I've noticed a few things change over time. Besides kinks and pains I never had in my 30's and a metabolism that has slowed down a bit, I've noticed my skin is not quite as bright and vibrant as it once was. Frankly, it's a little dull.
For months my Skinticians have been encouraging me to add laser treatments to my skincare routine. I decided to make Fraxel Refresh® my foray into the world of laser treatments.
What Did I Expect?
Fraxel Dual is considered the Gold Standard for skin resurfacing. Fraxel Dual is excellent for treating aging and damaged skin, erasing sun damage, wrinkles, and rebuilding collagen. The Fraxel Dual delivers results in a few treatments, which could take months or years to achieve with IPL and laser facials. But the trade-off is downtime that can last a week, depending on the condition treated.
The Dual gets its name from the dual-wavelength technology that enables the laser to target surface damage and more profound damage like wrinkles and even acne scars.
FraxelRefresh® is a preventative treatment. One that requires little or no downtime at all. Refresh® fills an essential gap in treatment previously not available. People that wanted the benefits of Fraxel but are not willing to accept the downtime.
Treatment day!
Preparing for the Refresh® began with cleansing and prep. After 20 minutes, I was ready to start my treatment.
The treatment was simple and lasted a total of 10 minutes. My Skintician performed two passes separated into quadrants on my face. Treatment Started with my forehead, then moved to the left side of my face, right hand, and finishing with the nose and upper lip. I experienced no discomfort, except around my jawline and upper lip. And even where I felt it in those areas, it was maybe a pain level of 2.5 on a scale of 10.
Immediately after the treatment, my skin was flushed and felt pretty warm for 1-2 hours. I was instructed to treat my face as if I had a mild sunburn: no sun for a week, apply SPF 50 every couple of hours, and drink lots of water.
It felt and looked like a mild sunburn. Some moisturizer and SPF 50 was applied, and I was ready to resume my day. But, before I started back to work, I purchased a couple of products that my Skintician suggested for protection and faster healing.
I applied a moisturizer with SPF 50 every few hours the first day. That evening I used IS Clinical Sheild to my regular nighttime routine (cleanser, moisturizer, and Phyto Corrective Gel). Stem cells nourish and support new cells generated after laser treatments like Refresh®, and the extra moisturizer helped keep my skin hydrated overnight.
Day 1 Post Fraxel Refresh.
After a restful night of sleep, I woke up the next morning feeling great. There was less redness in my skin, and it felt a little rough to the touch. I decided to skip a couple of days of shaving but otherwise continued with my regular skincare routine. In terms of appearance, it still looked like a mild sunburn (my photos from day 1 aren't the greatest but, they get better on day 2). I applied my moisturizer with SPF 50 every couple of hours and, my skin drank it right up.
At night I repeated the routine from the previous day.
Day 2 Post Fraxel Refresh®.
The second morning my skin didn't feel much different than the previous one. But, my skin was starting to look a little different. The redness was completely gone. My skin was now looked like it had a mild sunburn that was ready to peel. I could tell that the skin underneath was going to look super awesome, so now I was getting excited to see the final result. I had a little blotchiness and streakiness, but nothing crazy. Nothing a little foundation couldn't cover-up. I didn't mind looking like I had a sunburn that was healing, so I did my usual morning routine and headed out the door. I applied a moisturizer with SPF several times during the day.
In the evening, I added a new step to my routine that would help speed up the exfoliation process. After washing my face, I applied a generous amount of IMAGE Skincare's Vital C- Hydrating Enzyme Masque and massaged it into my skin for a few minutes. I left the masque on my face for 30 minutes to allow the gentle enzymes to exfoliate my skin. I finished with the same skincare steps mentioned above.
Day 3 Post Refresh®.
Wow! I awoke with a new complexion. Bright, vibrant, even and so soft to the touch, I almost couldn't believe it. My wife told me I looked like I was 30 again! Needless to say, I was stoked! I shaved that morning, adding another method of exfoliation to sweep away any remaining remnants of that dull old face I had been toting around.
In all, it took three days to complete the transition. And it was spectacular!
Afterthoughts.
Just do it! The results are undeniable and so exciting that I can't wait to make it available to everyone next month. I'm already scheduled to have another one in 6 weeks. My Skintician suggested three Refresh® treatments to reach maximum benefits. Then perhaps one a year for maintenance in addition to regular facials. Everyone is different. Some clients may need more than three treatments to achieve maximum results. Speak to your Skintician to find out what your ideal number is.
If you want great skin, but you're not sure where to start, let Skin Bar NYC help you. Our skin care specialists can customize an at-home routine that will help you achieve your beauty goals. At Skin Bar NYC we offer the ultimate skin care program in the form of memberships. Pay a monthly membership fee and choose from any of our services, based on your skincare needs. Our memberships are designed to ensure that you maintain a consistent skin care program. It's like having a trainer for your skin. And it's affordable. Call us today to find out more.