How Does Fraxel Laser Skin Resurfacing Work?
It is a well-known fact that Fraxel technology is the gold standard when it comes to skin resurfacing. That's why every top Dermatologist in NYC has one. But for every true Fraxel laser in use in New York City, there are two knock-offs claiming to be as good as Fraxel. Some spas go as far to claim they are using Fraxel when in fact they are not. None of these "me too" lasers comes close to the effectiveness of "the real McCoy." This is an important point since Fraxel treatments are not inexpensive. If you're going to pay top dollar for skin resurfacing you want to know that you're getting a "top flight" treatment. In this post I will review Fraxel treatments, what they do and why having a "real" Fraxel treatment makes a huge difference in your results.
Let's discuss the Fraxel laser and what it does. There are several Fraxel technologies available on the market. Each of them targeting a different layer of skin to achieve different desired effects. Let's review each Fraxel technology in order from the lightest treatment to the deepest.
Clear + Brilliant
The lightest laser in the Fraxel family, Clear + Brilliant works very well as a preventive treatment to combat aging for clients who already have a consistent, high quality skin care regimen. Clear + Brilliant is a fractional laser just like Fraxel Dual, but it treats at one setting and depth, and cannot be adjusted to treat deeper damage. One very popular aspect of Clear + Brilliant is the short downtime post treatment. Clients may look a little pink a day or two after, but the results are well worth it. Clients see improvement in the texture, pore size and evenness of the skin. Prices for Clear + Brilliant vary, but you can expect to pay $300-$500 a treatment. Usually a series of 3-6 treatments are recommended.
Fraxel Dual 
Unlike the Clear + Brilliant which is a preventive treatment, the Fraxel Dual is effective for prevention and correction. The Fraxel Dual is two lasers in one. The 1550 thulium laser wavelength penetrates deep into the surface layers of the dermis to rebuild collagen and erase fine lines, acne scars and wrinkles. The 1927 thulium laser wavelength targets superficial layers in the dermis where pigmentation, sun damage and brown spots are typically found. Precision is Fraxel Dual's true advantage. The 1927 wavelength allows your skin care specialist to pinpoint tissue depths as superficial as 9 microns, accurately targeting pigmentation right where it lives. No laser previously available was able to treat as superficially as the Dual. This advance made treating melasma, once considered impossible to correct- correctable.
Whether you're goal is to erase the signs of damage, aging or correcting scars from past acne breakouts- Dual can do that. Fraxel Dual is smart technology that allows your skin care specialist to pinpoint a specific depth of treatment to target fine lines, deep furrows and scars. There is no other laser available on the market with the precision Fraxel technology is known to deliver.  Depending on your condition and personal goals your skin care specialist will determine the right wavelength for you.
Fraxel Means Fractional
Each treatment delivers coverage to a fraction of the skins surface area. Your skin care professional will determine the right coverage for you. The average treatment is 15%-20% coverage of the skin. This flexibility is important and plays a big role in shortening recovery time. Clients experience some redness and swelling for several days after Fraxel Dual. Swelling depends on the depth and coverage of each treatment. Scar correction and treatments with the 1550 wavelength are deeper treatments and usually produce the most swelling. Treatment with the superficial 1927 wavelength produces much less swelling. However, Skin Bar NYC clients report a longer physical recovery that  is "not sexy". Clients bronze the first day or two and then peel for up to a week. (see Before & After photos below) Between days three and ten you may look "sunburned and a bit blotchy". Severity depends on the amount of pigmentation you have. The more pigmentation the more noticeable your recovery might be to others. A series of 4-6 treatments are recommended and depends on your condition and goals. Fraxel Dual will set you back $800- $1,200 per treatment in New York City.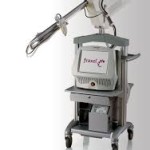 Fraxel Re:pair
This ablative CO2 laser is designed to correct severe damage and signs of aging. Unlike Fraxel Dual or Re:store, which treat only a fraction the skin, Re:pair completely removes the top layer of skin all at once. Performed under general anesthesia this treatment should be performed by a physician in a sterile environment. Risk of infection, pain and swelling require significant downtime up to four weeks. Results are up there with the face lift- truly awesome. And they can accomplished in one or two treatments. Speedy results are a considerable advantage to those who chose Re:pair. Most doctors in NYC charge between $1,500-$2,000 per treatment, plus any surgical fees.
For ninety-nine percent of Skin Bar NYC's clientele the Dual is all they will ever need. The wavelength of treatment might change as they age, but the need for a more aggressive laser won't. If you're not sure which Fraxel treatment is right for you one of our licensed skin care professionals can help.
Want to learn more? You also might like.
http://www.skinbarnyc.com/2015/blog-fraxel-recovery/